Eggs are a hearty and nutritious breakfast, but even better, you can use eggs for much more than breakfast. Eggs are one of the most versatile ingredients in the world and can be used in various dishes and cuisines. Pairing wine with eggs is a great way to make a memorable meal and create something unique. However, pairing wine with eggs can be tricky as eggs have a unique taste and texture that can clash with certain wines. Luckily, a few types of wines work well with eggs. This article will explore the best wine types to pair with eggs.
Green Eggs and…Wine?! Try These 6 Egg Dishes with Wine
1. French Toast
French toast is one of my favorite breakfast dishes. You can make it by dipping bread in egg whites and then cooking it in a pan with butter for 2 to 4 minutes on each side or until golden brown. You can enjoy this dish by adding different toppings such as dried fruit, jam, cheese, bacon, or whatever else you want. Pairing French toast with good red wine is delicious and can upgrade the experience. Great red wines to pair with French toast include Cabernet Sauvignon, Merlot, and Pinot Noir.
2. Huevos Rancheros
Huevos Rancheros is a popular egg dish originating from Mexico. It consists of eggs, salsa, and beans served on corn tortillas. Eat this dish for breakfast or as a meal for lunch or dinner. Try a dry red wine such as Cabernet Sauvignon to pair with it. A medium to full-bodied red wine enhances the savory taste of the eggs which helps bring out the distinct flavors in this dish.
3. Pesto Scrambled Eggs
This easy yet satisfying dish consists of scrambled eggs with pesto and cheese served with toast. Pesto is a green sauce made from basil, olive oil, garlic cloves, pine nuts, and parmesan cheese. You can serve it hot or cold with different dishes such as pasta or bread. Pair this egg dish with a full-bodied red wine for an exquisite pairing. A wine with sensual aromas and flavors of black pepper, dark fruit, and chocolate, such as Cabernet Sauvignon or Pinot Noir, will work best for this dish.
4. Moons Over My Hammy
Moons Over My Hammy is a savory breakfast sandwich made in the UK. It consists of all the yummy goodness you could ever want including scrambles eggs, layers of juicy ham, and melted cheese, served on toast. This dish is perfect for breakfast or lunch because you can prepare it at home and it tastes delicious. Try pairing Moons Over My Hammy with a white wine like Sauvignon Blanc, as this wine type has a crisp, light taste that goes great with savory dishes.
5. Spinach Omelet
A well-made omelet is arguably one of the best and healthiest meals. It comprises cheese, vegetables, meat, and spices stuffed into a folded omelet. Spinach Omelets are one of the most popular types of omelets out there because spinach is so healthy for you and makes great flavor combinations. I recommend pairing it with a white wine that has notes of pineapple, melon, and/or honey flavors. A wine like Chardonnay or even a Rosé will complement the flavors well and balance out the acidity of the spinach.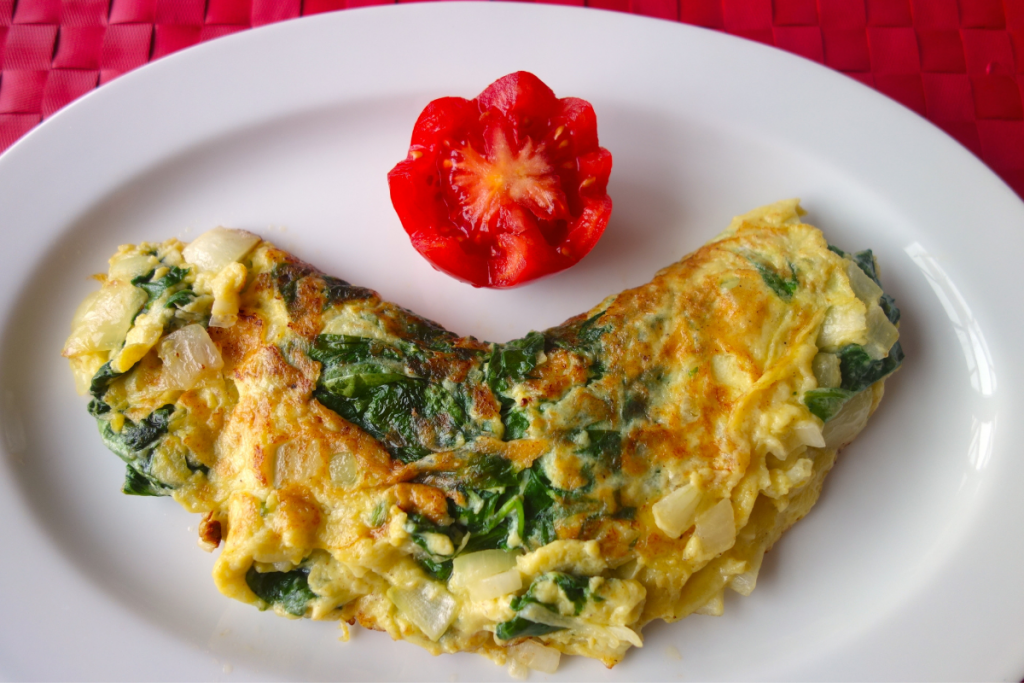 6. Poached Eggs
Poached eggs are a delicate dish that pairs well with light-bodied wines such as Pinot Grigio or Riesling. Pinot Grigio's crisp acidity complements the delicate taste of poached eggs, while Riesling's fruity notes can enhance the dish's flavors.
Now you know what types of egg and wine types pair well together. You can eat eggs in many different ways and impress your friends and family with the right wine. Pairing wine with eggs can be a fun and unique way to enjoy your meal, but do it correctly to get the most enjoyment out of your food. Following these guidelines, you can create the perfect wine pairing for your favorite egg dishes and elevate your dining experience.