Purveyors and Growers of Fine  Wines from California.
Our winery is founded on the four pillars of life that keep us focused, driven, and alive.  Family, Friends, Faith, and Freedom. At McClain Cellars, we believe every day is a gift to be enjoyed with those you love the most. Cheers!
Go Wine Tasting in Laguna Beach, Irvine, or Solvang, CA!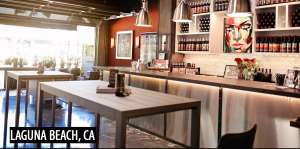 Our Laguna Beach (Laguna Canyon Road) Location: "Reserve a Tasting in Laguna Beach (Laguna Canyon Road) Our first location and the Orange County flagship. A "hip" modern-industrial luxury tasting lounge that is a cross between a New York "Soho" music venue and a "Napa Valley" tasting lounge has opened its doors in Laguna Beach's "The Hive" next to the Sawdust Festival. This is not an ordinary winery by any means.
Featuring a 16-foot glass garage door, skylights, and a shaded patio, McClain Cellars brings the beauty of Laguna Beach into the tasting room. Along the bar, you will find artistic wine bottles with unique paintings on each. Each of the wines has a clever name like, "Summer Breeze," "Family Values," "Promise Keeper," and "Faithful Friend" to name a few. The walls have colorful paintings that encourage each guest to stop and gaze. With the capacity to host up to 49 guests at once, this quaint venue offers free parking, easy freeway access, and flexible hours. The tasting lounge is in the HIVE at 849 Laguna Canyon Road, Laguna Beach, CA next to Oliver's Osteria, Kitchen in the Canyon, and the Laguna Beach Beer Company.
Our Laguna Beach (Forest Avenue) Location: "Reserve a Tasting in Laguna Beach (Forest Ave) Enjoy a wine tasting in the cellar. (This location is intimate and has limited seating. Reservations Required) Located on the popular walking street, Forest Avenue, in downtown Laguna Beach, our library collection and wine cellar is just a short 7 minute walk from our larger Laguna Canyon Road location. Offering an exciting collection of aged wines, this is truly a unique wine tasting experience for anyone looking for something intimate and different.
This boutique wine cellar offers a glass enclosed collection of the McClain Cellars library collection. Our members have the ability to enjoy a flight of wines in the cellar among the greatest wines ever produced by the McClain Family. If a cellar tasting is your desire, we offer warm jackets to keep you warm and toasty as you engage a flight of amazing wines. Our Forest Avenue location has limited capacity, so reservations are strongly encouraged. This standing wine bar offers a temperature controlled wine cellar, beautiful custom artwork, and it is the perfect pairing for before dinner or lunch in downtown Laguna Beach. Like all of our locations, the walls have colorful paintings that encourage every guest to stop and gaze. Located down the street from amazing restaurants like 230 Forest, Harley of Laguna Beach, Brussels Bistro, and The Lumberyard.
Our Solvang, CA Location:  "Reserve a Tasting in Solvang Enjoy a luxury wine tasting experience in Solvang in front of our 36-foot long fire pit, and fall in love with our relaxing couches and beautiful bar. It's an awesome place to watch the thousands of people who visit this beautiful Danish town pass by each and every day. Our spacious front and back patios offer a comfortable place to enjoy a glass of the good stuff with your very best friend.
At any of our locations, guests can have a private wine tasting, light snacks, charcuterie & cheese boards, access to the winemaker and owners, and much more. They also offer homemade artisan popcorn tastings, olive oils & vinegar tastings as well as wine appreciation classes. The wine ambassadors on hand are knowledgeable of the wines and eager to share the story of the McClain family with all guests.
McClain Cellars is an amazing new winery from the Santa Ynez Valley. What makes them different from other wineries in Santa Barbara or Orange County is where the wine is made and where it comes from. Founded by Jason & Sofia McClain, McClain Cellars grows, harvests, and makes all of its wine in the Santa Ynez Valley. After it is bottled and ready to release, they bring all the wine to Orange County where it is released to the public.
Great wine with...
Our Friends & Family
We make great wines to be shared by great friends. Jason & Sofia McClain started McClain Cellars to do something they always wanted; to spend more time with friends and family. For decades nothing has been more fun than gathering together for wine night at the McClain Family. Whether it was a Saturday afternoon BBQ, movie night, an evening after a long day or just Wine Wednesday, nothing beat hanging out with great friends, a glass of good wine and enjoying what life has to offer.
To make great wine we need three things, a family with a dream, great grapes and an amazing wine maker. Welcome to McClain Cellars!