Summer is the perfect season for light foods and wine tasting. What better way to showcase this pairing than with wine and sushi? Sushi has a long culture and history of being served with alcohol, especially chilled Japanese Sake.

Of course, in the western world, we like to pair these light dishes with wines! The flavors of wine only further enhance those summer vibes and essence of what sushi brings to the season.
Here are three easy sushi recipes for summer PLUS the best wines to pair them with!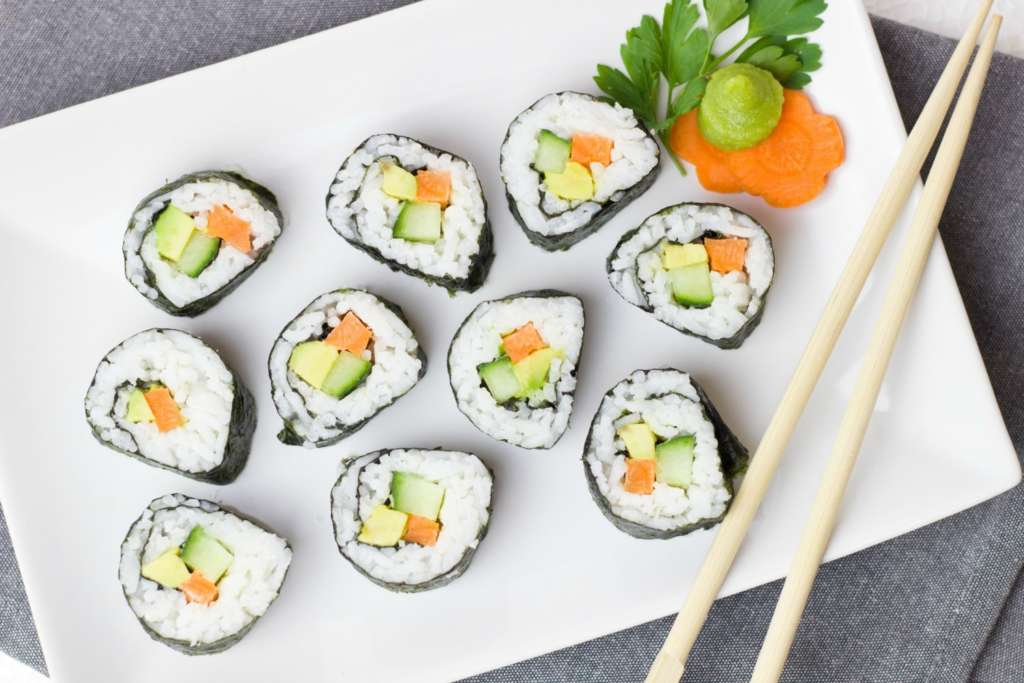 Summer Sushi Bake
While sushi is generally served raw, this sushi bake is an easy recipe for sushi beginners. It allows you to get the feel for sushi without the raw fish!

After preheating your oven to 350 degrees Fahrenheit, make ½ of sushi rice. This can be any white rice, but I recommend long grain jasmine rice. Add two tablespoons of white vinegar for a little sweetness otherwise, follow the cooking instruction and refrigerate (this step is important, you'll thank me later).

Next, mix together mayonnaise, one can of tuna in water, and two chopped spring onions. Usually, I try to aim for a 2:1 ratio of mayo to the other ingredients. I don't know, I just like the creaminess, but the texture is totally up to you! If you want an extra kick, pick up some wasabi mayo and use that instead, yum yum!

Now, lightly oil a baking pan and spread your sushi rice evenly along the bottom. I prefer to use my own wet hands for this to ensure an even spread, but a wooden spoon also works. Wet your hands or the spoon to prevent the rice from sticking.

Ok, so, once you have spread the rice layer, next is the tuna mixture. Again, spread it nice and evenly and use a fork to pat it down.

Cook for 15 minutes or until you see a golden brown color to your fish.

Once you remove it, use a spatula to cut it into squares and serve it on a small piece of nori seaweed. Your guests are sure to love the unique, warm taste of this sushi bake recipe that is sure to rock all your summer get-togethers!

Best Wine Pairing: Albarino! Albarino is a great flavor to pair with anything baked. It works well with other sushi and friend rolls as well such as Tempura. The lemon and lime add a high acidity to this wine, which only enhances the sweetness of the fish and pairs well with the oiliness.

Fruit Sushi (Frushi?)
Frushi is an American invention, buut, don't knock it until you try it! It's perfect for a playful dessert and pairs really well with wine.

First, boil a ⅓ cup of rice over medium-high heat with 1 cup of water, a ½ cup of coconut milk, and 1 tablespoon of vanilla. Make sure all of the water is absorbed.

Mashup ½ of a banana and stir in 1 tablespoon of chia seeds before mixing this with your cooked rice. This will give your outer layer a sweeter texture.

Flatten out the rice mix onto saran wrap, trying to keep it as angular as possible (making it a rectangle makes rolling and cutting easier on you later!). Top the rice with chopped strawberries, pineapple, and kiwi, leaving about a half inch of rice showing at each end.

Roll the saran wrap with the rice into a cylinder shape. Place it into your freezer until frozen, usually 1-2 hours.

Once your frushi is frozen, unwrap the saran wrap and cut it into frushi pieces for your guests. It's a fun way to infuse sushi-making into any party while keeping all guests happy.

Best Wine Pairing: Pinot Noir, anyone? While this lighter bodied wine wouldn't usually pair well with sushi (it can leave fish tasting metallic), it's perfect for this dish! Since this recipe features no fish, the taste and texture of the fruit, as well as the flavors of the Pinot, can be enjoyed by your guests. A wine and sushi pairing match made in heaven!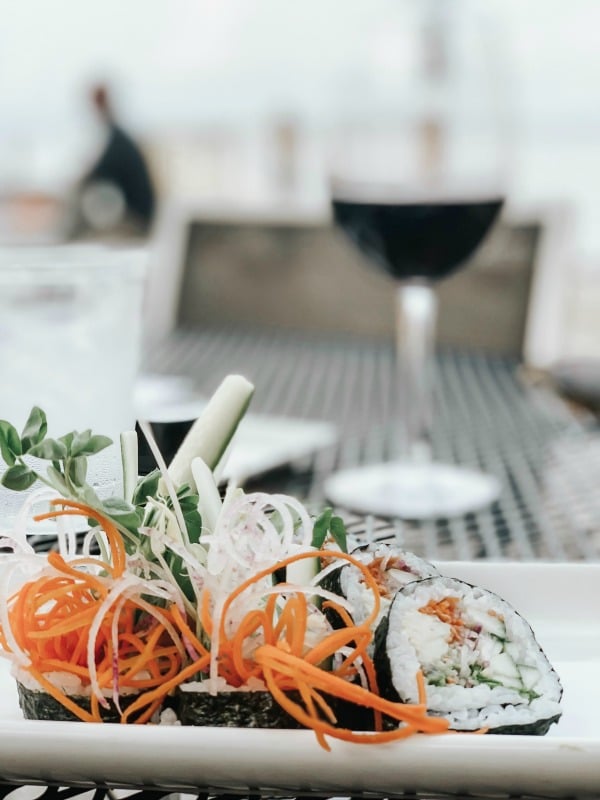 The California Roll
The California Roll is one of the best-known sushi rolls to western sushi enthusiasts…and it's easy to make!

First, boil rinsed, ½ cup long grain jasmine rice with 1 cup of water and 2 tablespoons of white vinegar (add more or use less according to your taste). Make sure all the water is absorbed and refrigerate the rice for at least one hour.

Next, on a sheet of saran wrap, spread out a sheet of nori. Using your hands, push a thin layer of rice into the nori sheet. Keep your hands wet through this process to prevent the rice from sticking to your hands.

After you have covered your entire sheet or nori, begin placing your vegetables starting about ½ inch from the edge of the rice. You need this half inch to make sure that you are able to roll the sushi correctly. Place thinly sliced carrots, cucumber, and avocado in line from top to bottom. If you would like, add crab meat lastly to finish off, though, I have noticed that crab is being used less and less in traditional California rolls.

Once you have placed all of your veggies in your roll, wet your hands again, and carefully begin to roll the nori into a cylinder. You can do this with the saran wrap or without the saran wrap to start. After you have your cylinder base, cover it in saran wrap to further shape it.

Chill your roll for fifteen minutes minimum before cutting it to get more rounded slices of sushi.

Best Wine Pairing: Rosé! Rosé has a bright acidity and is a very dry wine. The creamy avocado in the California roll melds perfectly with the flavors in the rosé and make it hard to say no top pairing these two. The sweetness of the crab also will complement the dry flavor of the rosé, which balances the pairing wonderfully!

If you plan on hosting a summer get together this year, you may want to consider making sushi your star! From the numerous ways that you can make sushi to the unique wine and sushi pairings you can create, sushi is a timeless summer food. It will always satisfy your guests without putting through a ton of stress planning complex dishes.