Red wine is a versatile and delicious drink that can be enjoyed on its own or as part of a cocktail. We've covered you if you want to mix things up and try something new with your red wine. In this article, we'll share five easy and delicious red wine cocktails you can make at home. These cocktails are perfect for any occasion, whether a casual dinner party with friends or a special date night.
Easy to Make Red Wine Cocktails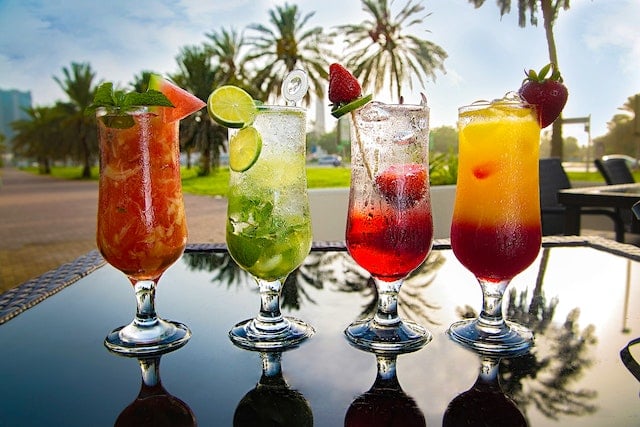 1. Sangria
If you love fruity sweet drinks, sangria is the red wine cocktail for you. Sangria is straightforward to make and can be served in various ways. You could even put it in a pitcher and serve sangria to your guests at a party. Traditional sangria is made with red wine, fruit, and brandy.
Steps
 Combine red wine, orange juice, lime juice, and your choice of fruit with some condensed milk or sweetened cream. 
You can add a splash of dark rum or brandy to give it an extra kick.
 Before serving, you could add club soda or sparkling wine to make the sangria more bubbly.
2. Red Wine Spritzer
This light and refreshing drink is perfect for a hot summer day. To make a red wine spritzer, you'll need the following:
1 part red wine
Two parts sparkling water
A splash of orange juice (optional)
A slice of orange for garnish
Steps
In a glass, combine the red wine, sparkling water, and orange juice (if using).
Stir gently.
Add an orange slice for garnish.
3. Lemon Red Wine Cocktail
This is a tangy and refreshing beverage that combines citrus with red wine. To make, combine the following ingredients in a glass:
Lemon juice to taste
Red wine
Club soda
Ice
Ginger ale (optional)
Bitters (optional)
Steps
In a glass, add lemon juice and red wine. Top off with club soda and ice. Stir gently. Add a splash of ginger ale and bitters (if using). Enjoy!
4. Kalimotxo
Kalimotxo or calimocho, which is Basque for "chalice and a glass of wine," is a red wine cocktail that's very popular and widespread in Spain. It's made by mixing equal parts red wine and cola. 
Steps
Put the red wine in the bottom of a glass, add the cola, and then top off the drink with more red wine. Garnish with a slice of orange.
5. Red Wine Margarita
A red wine margarita is a fun and unique twist on the classic margarita. To make a red wine margarita, you'll need the following:
1 part red wine
1 part lime juice
1/2 part triple sec
Salt for rimming the glass
Lime wheel for garnish
Steps
Rim a glass with salt.
Combine the red wine, lime juice, and triple sec in a shaker.
Shake well and strain into the rimmed glass.
Garnish with a lime wheel.
With these five easy red wine cocktails, you'll never get bored of drinking red wine again. These cocktails are perfect for any occasion and will impress your guests. They're also easy to make at home, so you can enjoy a delicious cocktail without leaving the house. Always drink responsibly and have fun experimenting with different ingredients and variations.